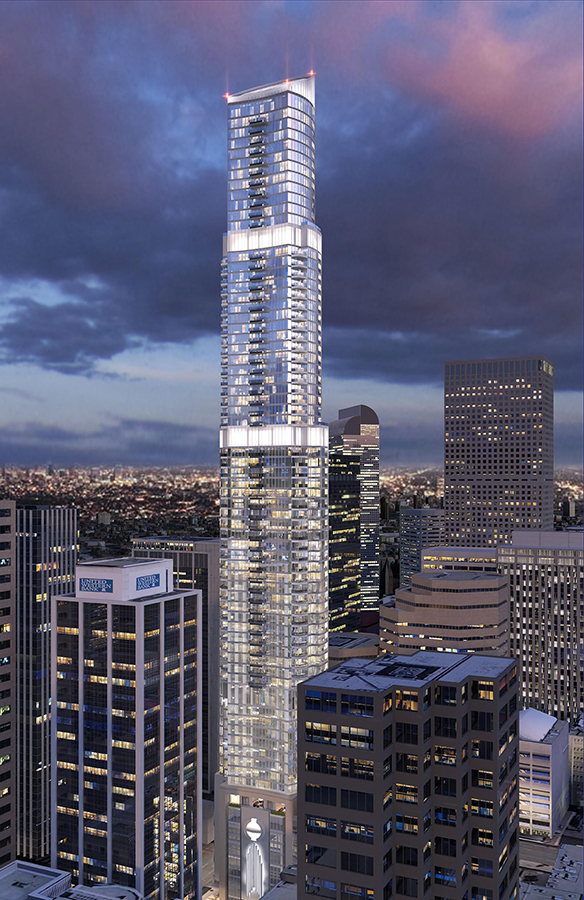 This past week the Denver news media all picked up a story about a proposed new skyscraper at 650 17th St. in the Central Business District. The proposal actually (quietly) leaked out weeks ago with a rendering and speculation regarding the developer, Greenwich Realty Capital out of NYC, but within the last week, the same developer released updated renderings and a slick new website.
The first rendering of the building appeared to show about 80 stories and would be the new "Tallest" in Denver but not by much, but to add mystery and intrigue to the plot a recent update to the website and interviews with the developer now claim the building would rise some 90 stories, and 1,000′.
The local media including the Denver Post picked up the story.
The new details on the structure would absolutely tower over anything else in Downtown Denver. The current tallest building in Denver is The Republic building at a mere 714′ built in 1984. The next two tallest buildings, 1801 California (the old Xcel/Centurylink building) and the Cash Register Building were also built during the early 1980's.
Denver is booming, and it's high time (no pun intended) that we not only got a new "tallest building" but one that is beautiful to look at, glass, modern, and statement-making.
The icing on the cake would be if we do in fact get a Supertall building, a building with a height of 1,000′ or more. This would become the 19th tallest building in the US, and put Denver in some pretty elite company.
We already have a respectable skyline for a third tier or more likely now second tier city, and this would be awesome to see.
Tall buildings do not "make cities," as Paris and Washington DC demonstrate, but in the case of Denver, we have only small number of redevelopment sites left in the CBD that could accommodate a Supertall given current zoning and height restrictions along with view plan restrictions, and another stubby apartment block here would be a wasted opportunity.
Count me as a city-lover and in particular a Mile High City-lover who would love to see a place-making structure like this tower get built.
The proposed tower would be a true mixed-use building with Condo, Hotel, and Office uses, which makes sense given the size it would have to have multiple uses to "pencil out" to investors and equity partners.
You don't have to a building nerd to appreciate how cool this would look on our skyline: