March 29, 2023
I was recently looking at the latest DMAR (Denver Metro Association of Realtors) Market Trends report (DMAR_MarketTrendsReport_March2023_020323X) for March 2023, which would include data up through the end of February. The interesting thing about data is that its presentation to the public can be spun (or manipulated) by being presented in a certain way, for instance, only showing one category of something or focusing on the "least bad" category while glossing over the more important categories. This happens all the time and many people don't bother to read past the headlines.

Not to pick on or single out this agent, (I actually had the pleasure of completing a transaction with her this past year, and it was a very smooth and professional transaction) but I've heard numerous agents in the past few weeks on social media now using the term "stabilized" or "stable" to describe the market. In my opinion, the market is far from stable. I would go so far as to characterize the current state of the Denver Real Estate market as volatile, transitory, or even unstable.
*I believe the reason for trying to sugarcoat the reality of the market is simple: as an agent, you don't earn a living if people aren't buying and selling. It's no secret that brokerages and agents in general are hurting. There is a concerted effort by everyone in the Real Estate machine to assuage fears, especially amongst reluctant buyers. Or it could just be some agents' attempt to be optimistic in the face of uncertain times; however, the conditions and data suggest it's much more wise to be a bit more pragmatic and cautious right now.
Here's Why:
Mortgage rates are incredibly unstable right now. The benchmark 30 year Fixed Rate Mortgage rate (aka 30 year FRM) is gyrating up and down violently. Rates peaked at around 7.5% in October 2022, then down to 6% early in the year, then back up to 7%, then down to around 6.5% currently. It's been an incredibly volatile roller-coaster ride in the past 6-9 months. There were years in the recent past where rates only moved 25 basis points (.25%) over the course of the entire year. That type of tight range is stable, this is not.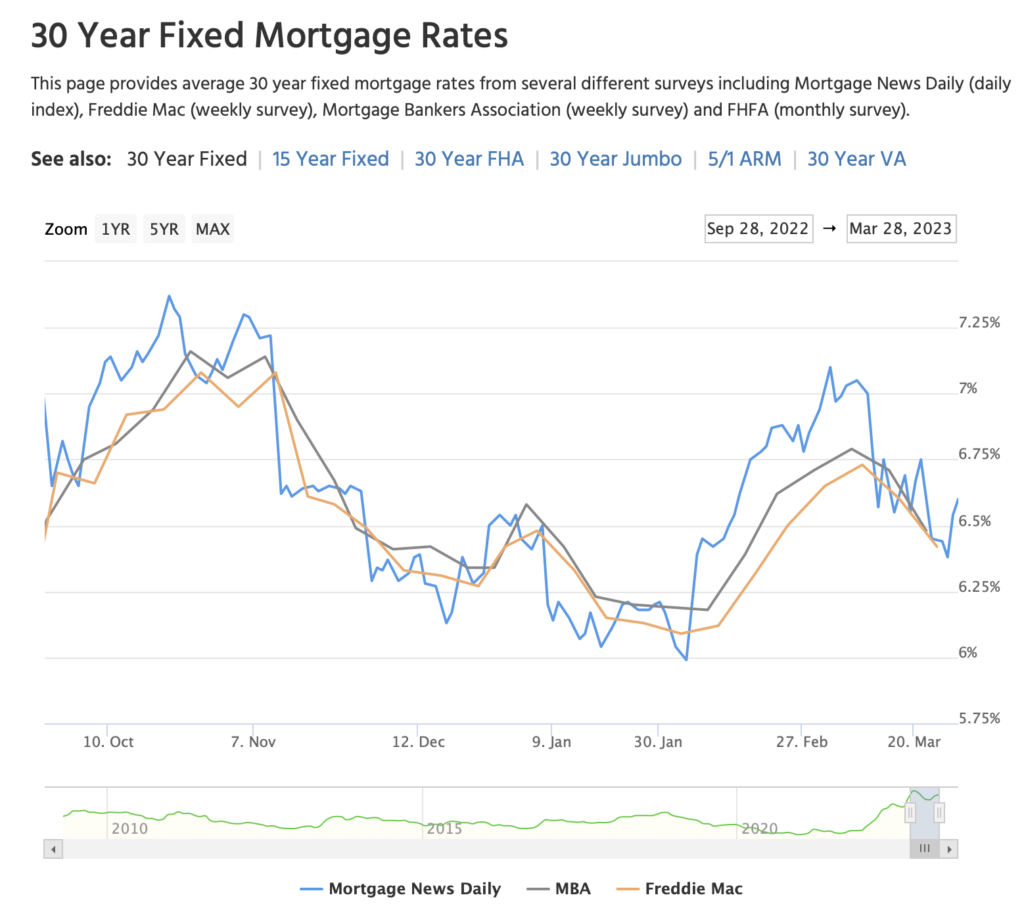 Additionally, there are storm clouds on the horizon for not just rates, but also for credit, and availability of credit. Just this week, Fannie Mae released an article entitled:
Some selected highlights include:
Our updated forecast increases the Q1 2023 real gross domestic product (GDP) estimate and pushes out the timing of an anticipated recession from Q2 2023 into the second half of this year.
We expect total home sales in 2023 to decline 18.4 percent from the 2022 total
liquidity stress among many regional banks who may be facing deposit run pressure. We anticipate this will stabilize, but it is likely to result in greater reluctance to lend as banks seek to preserve liquidity.
Single-family mortgage lending in the jumbo market may tighten significantly, leading to fewer sales in related regions and market segments.
Ongoing liquidity stress could limit home financing and therefore sales
Regardless of how the banking turbulence plays out, we continue to expect home sales activity to remain subdued for the remainder of 2023.
Unemployment
The current events in the economy and financial system including several large bank failures in the past few weeks, and the growing consensus that we will be in recession this year, will no doubt cause a chain reaction in hiring freezes, and continue to speed up mass layoffs in the tech space and other industries. This will further slacken the already slackened demand from the "buyer segment" while simultaneously should increase financial distress which logically should produce more listings.
Shadow Inventory
A large inventory of rental properties, second homes, airbnb's etc. was built up during the past few years that largely didn't exist in the previous housing bust. A percentage of these properties will come to market if distress sets in, even if there is long-term low rate debt on the property, since people will opt for liquidity. This is different than someone selling their primary house at a 3% mortgage rate. With a primary house, you need a place to live, and you will be loathe to sell in order to either rent or buy another property at a higher rate. However, with a rental property, the rate is secondary to the cash flow, and if it's an underperforming asset, or the owner needs the equity/liquidity in other areas, there will be inventory despite that owner having a low rate.
Month over Month and Year Over Year Deltas are Huge
The data when viewed in its entirety paints a picture of market volatility, of a market very much in transition. Transition to what is still up for debate though. It does not paint the picture, in my opinion, of a stable market. This is why virtually every investor has "exited stage left." Investors are professionals, and they are doing this for profit. You invest in stable markets or in times of stability both for buy and hold, and also for fix and flip. You do not invest in unstable real estate markets generally.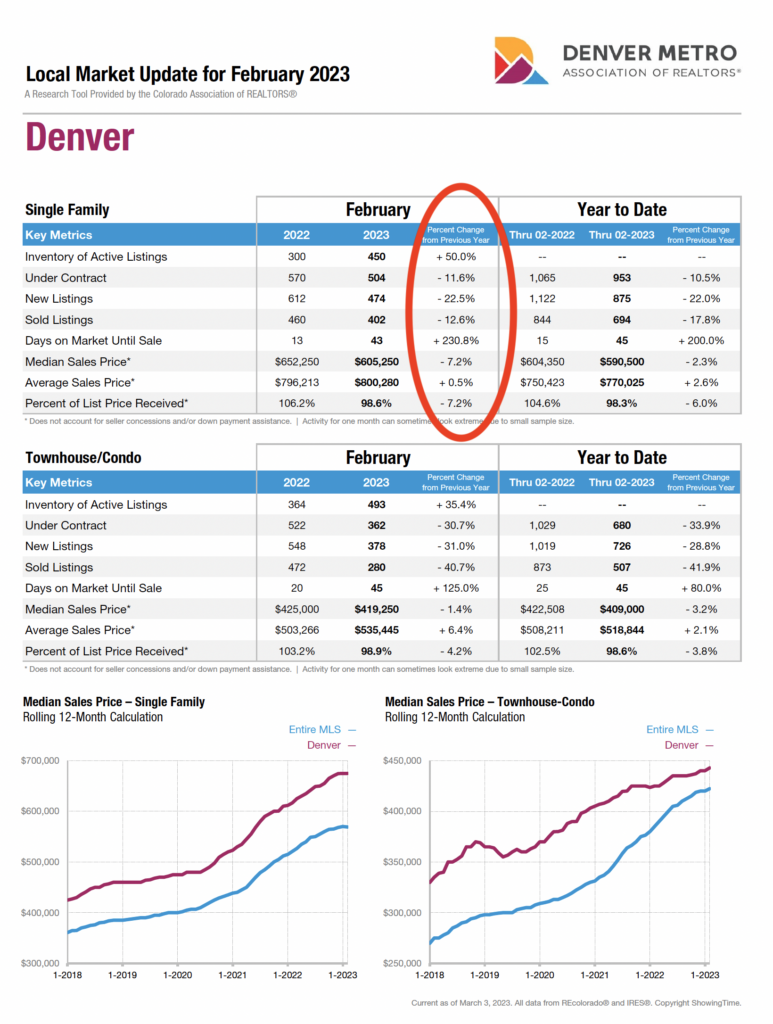 It's still a historically low inventory level, which frankly is the only thing keeping the market propped up at this point, but the deltas, the rates of change here are unprecedented.
Conclusion
Stability cannot come until we know how this story ends, or at least know that we have lots of runway left. If this is the "new norm," it's too early to call it "stabilized." Mortgage rates need to sit in a tight range for several years, unemployment generally needs to be manageable and not spike, maybe we avert a massive recession with just a mild one.
The deltas need to return to something more normal, like 0-6% y-o-y change in order to return confidence to the mass market of buyers and sellers and return stability.