Zillow Predicts Denver as One of the Nation's Top Housing Markets for 2021
In previous blog posts we mentioned some headwinds that Real Estate in general in the US and in particular in big cities may have moving forward, but we believe Denver may be an outlier and will outperform most other cities in the future. Zillow recently confirmed our thought with their own prediction.
In the Q4 2020 Zillow Home Price Expectations Survey, a quarterly survey of economists, investment strategists, and real estate agents sponsored by Zillow and conducted quarterly by Pulsenomics LLC, over half of the respondents (56%) believed that home values in Denver would outperform the national average in 2021. The top five markets included Austin, Phoenix, Nashville, and Tampa with Denver in the fifth spot.
According this article from Zillow, "These Sun Belt destinations are migration magnets thanks to relatively affordable, family-sized homes, booming economies and sunny weather. Record-low mortgage rates and the increased demand for living space, coupled with a surge of Millennials buying their first homes, will keep the pressure on home prices there for the foreseeable future."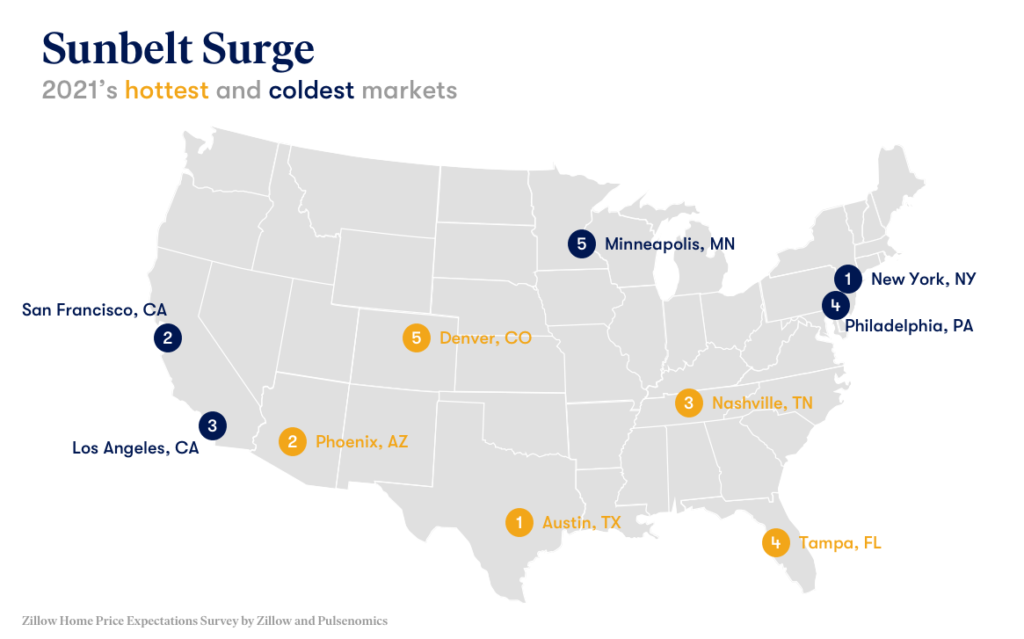 The demographics in Denver seem to support this theory. According to the Denver Metro Associations 2020: Year End Review "62 percent of the people who moved into the area from a different state was a Millennial in 2019. In the meantime, Millennials make up about 30 percent of Denver's population. This is a very promising indicator for the local real estate market since Millennials also represent the largest cohort of homebuyers. Specifically, 54 percent of the homebuyers in 2019 were born between 1980 and 1998."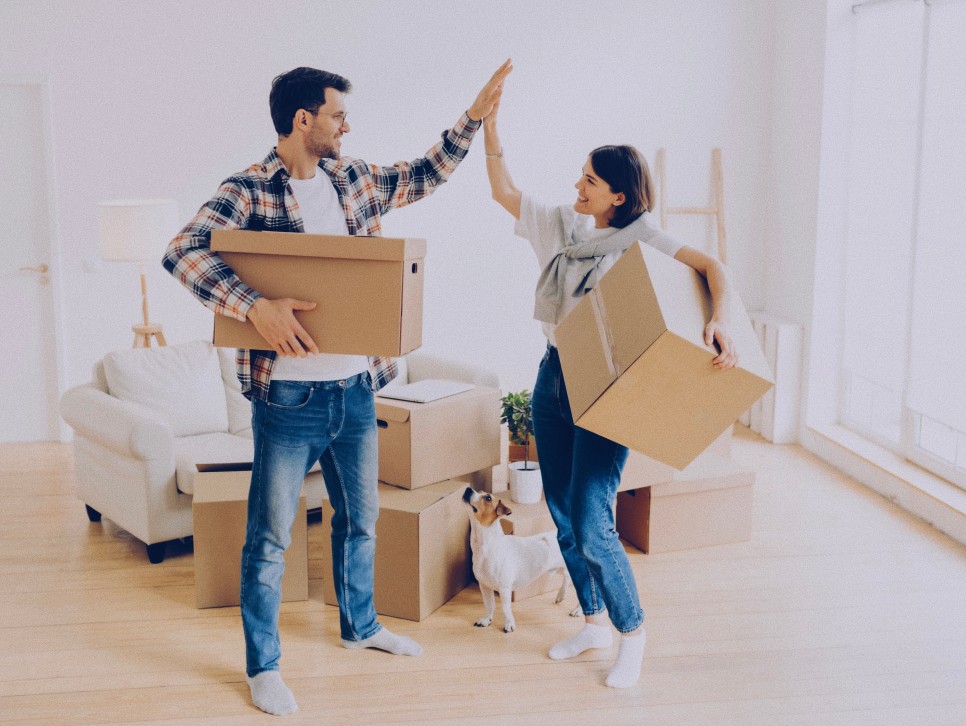 Combine that with the access to the outdoors, the recent teleworking trend brought on by the pandemic, and continued low mortgage rates and the Denver market seems primed to continue its upward trajectory.
Whats in store for 2021?
Coming off a record setting 2020, how does 2021 look? Well, so far pretty much the same. The supply/demand ratio continues to be incredibly tight. New listings have been about average seasonally; however demand has been voracious. The end of December brought record low active inventory with just 2,541 active listings on the market which is the first time ever that Denver has seen under 3,000 listings. If entering the market, buyers and sellers can still expect multiple offer situations on most every property and listing going under contract within days.
In the chart below, for the city of Denver only, note that active inventory is down for December, year over year, at a whopping 65.9%. Sales prices for the month of December year over year are up 18.7% on average for single family. These are staggering eye-popping numbers.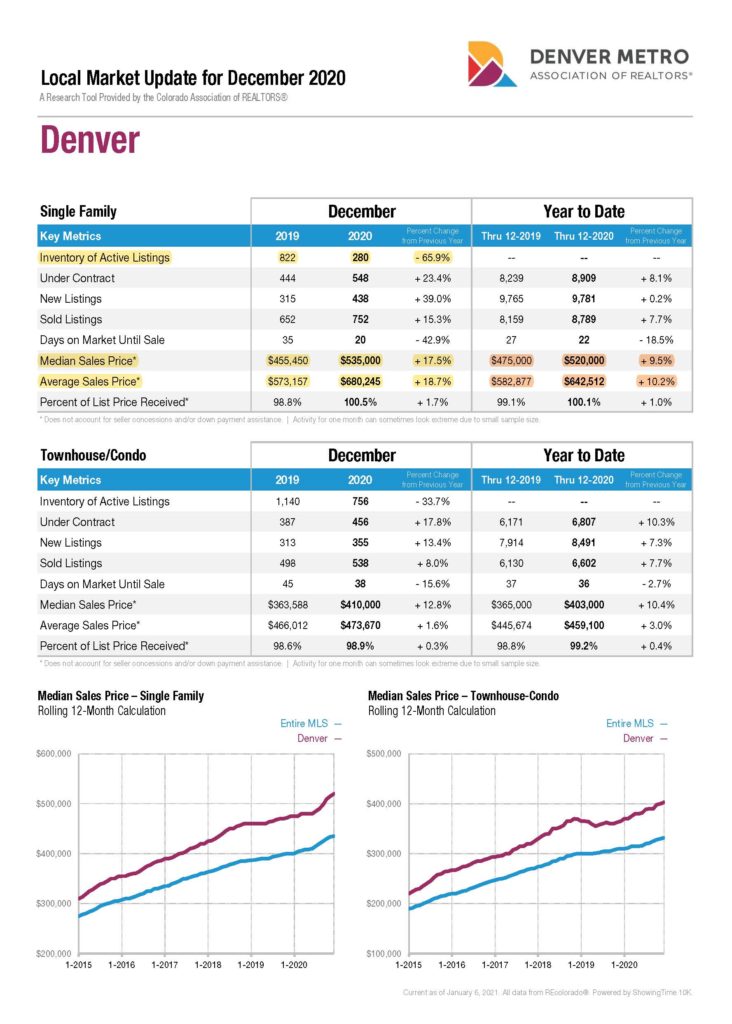 The data for the overall Denver metro market (all MLS activity on the Front Range) tells a similar story: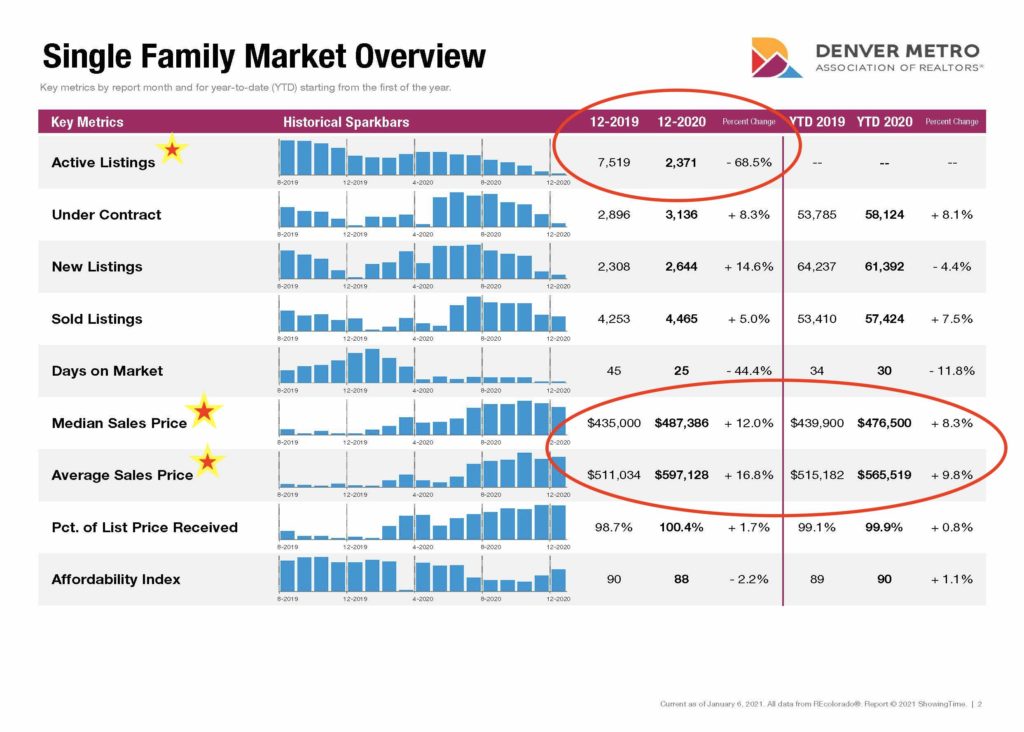 We are watching the data carefully as January progresses and we start to enter into the traditional peak buying/selling season of Spring. It remains to be seen whether Denver can sustain these incredible statistics moving forward, but the Zillow prediction that Denver will be one of the top 5 markets in 2021 bodes well for sustained growth.
If you are thinking of entering the market as either a buyer or a seller in 2021, it is critical to have a strong team by your side to help you navigate the rapidly changing market. Here at Abode we live in the neighborhoods in which we conduct our business, allowing us to be highly tuned into the nuances of the local real estate market AND we provide that service at a fraction of the price. Interested in buying or selling in 2021? Drop us a line! We would love to hear from you.